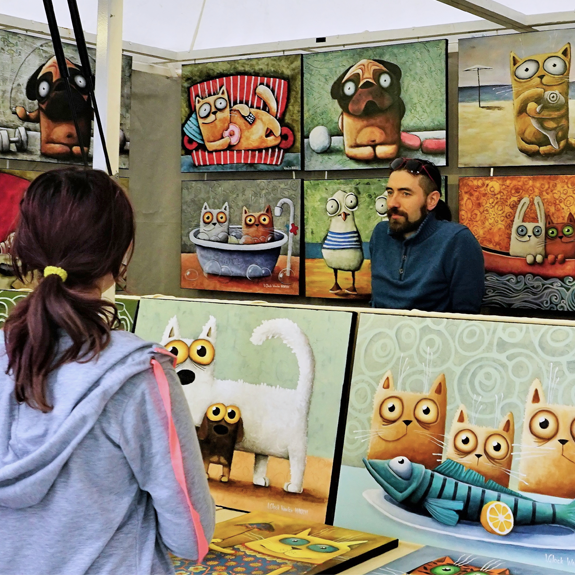 Find the Spark that
Elevates Your Space
Discover bold and innovative contemporary art from an art dealer with one-on-one relationships with artists and collectors.
Libertine Contemporary offers more than personalized curatorial, consultative, and logistical services. We endeavor for clients to find works that ignite their curiosity and energize them into plunging into the vanguard of contemporary fine art.
Our roster of artists is locally and internationally known for provocative, thought-provoking, and irreverent works that are, nevertheless, masterfully rendered and crafted. With works spanning different genres and mediums, our artists have more to offer than the staid and staple safety of traditional fine arts.
As a foremost art curator of contemporary art, we have real knowledge of pieces in our collection, and a keen eye on which works will enhance your space.
We work closely with individual clients and corporations to help them find works that elicit curiosity and stir the desire to include them in their collection.
Libertine Contemporary has partnered with numerous organizations to loan and consign works for exhibits, fundraisers, and various other events.
We have partnered with major hotels to curate specialty exhibits and dress their interiors with defining examples of contemporary art.
As foremost contemporary art curators, we have personally curated staging properties for rent and sale, as well as styled exhibits, and fairs for charitable causes.
We have curated luxury properties, yachts, clubs, and more for discerning customers who value the irreverent sophistication of contemporary art.
Our expertise of contemporary art, and direct links to artists, ensures smooth one-on-one deals and a tailored curatorial experience that can't be found with other art dealers.
Part of the Marriott Hotel group Sarasota, FL
Contact us to learn more about our clientele and services.
Subscribe to our

Newsletter
Discover great artists and extraordinary pieces through Libertine Contemporary's events and promotions.
I enjoyed having a yoga class with around art work...very inspirational.
Volunteered with Et Cultura and got to experience this.Highly recommend a visit
Beautiful space and the artist featured are amazing!
Staff is knowledgable, friendly, and talented. Beautiful space and amazing art. Gorgeously curated collection!
Excellent ! Great art and great great service - reasonable negotiators and fair (we bought a piece).